In part 2 of our two-part series on the perceptions of marijuana legalization, we take a deeper dive into the insights we uncovered. Our research has found that regardless of legislation, 60% of people believe that it is the individual's right to choose whether to use marijuana. In part 1, we explained that the majority of people are in favor of some form of legalization. Beyond that, we asked follow-up questions to determine how people feel about the use of marijuana either recreationally or medically. In this blog we will be analyzing the effects marijuana is believed to have on factors such as stress, school and job performance, and physical activity.
Impact on Productivity
Looking at the overall total from those who agreed with the following statements in 2018 and 2019 (as pictured below), we have found that 45% of people, regardless of demographics, think that marijuana use decreases productivity. However, 56% of those surveyed agree that a beneficial use of marijuana is to help cope with stress.
Further, 33% of those surveyed believe that marijuana is dangerous to people's health. Of the same group, only 15% believe that alcohol is less harmful to health than marijuana. And, 36% of people believe that marijuana is a gateway drug to more harmful drugs.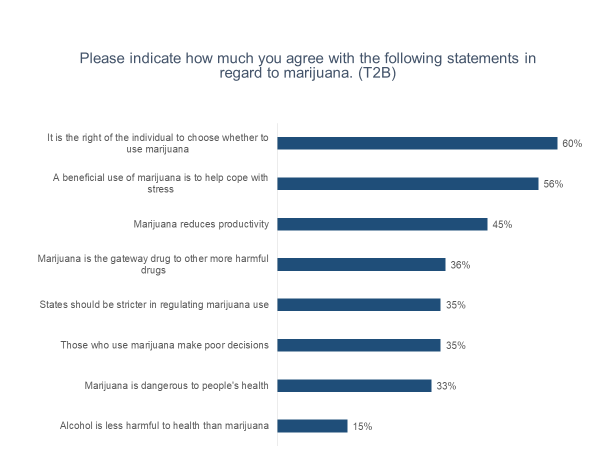 Millennials Versus The World
When looking at the data by sub-group, Millennials are slightly more likely than other generations to see marijuana legalization in a positive light, feeling stronger that it is the right of the individual to choose, and that it is beneficial to stress. Millennials are also less likely to feel marijuana reduces productivity or is a gateway drug.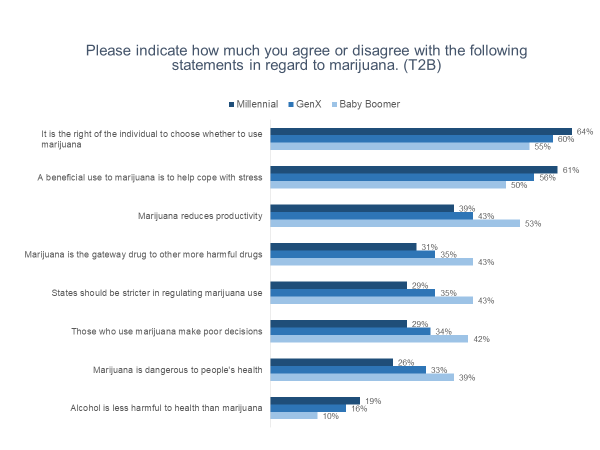 How Sample Providers Differ on the Topic
Lastly, we looked at the number of those interested in the legalization of marijuana from a sample provider standpoint. Among the 20+ sample providers that participated in the research, 8 of our top US consumer panel partners are listed below. All were balanced on age, gender, education, and other demographics. You'll notice that the percentage of those that think marijuana reduces productivity varies quite a bit. While the overall rate was about 45%, there was as much as a 17-point swing between the lowest and the highest. Similarly, about 56% of respondents overall feel that marijuana is beneficial to cope with stress, with a 19-point swing between the lowest and the highest.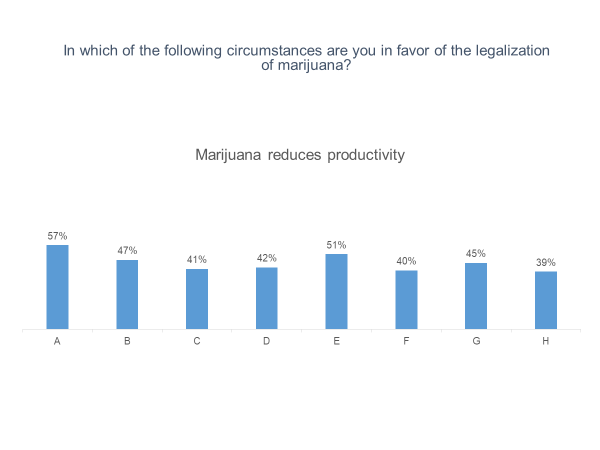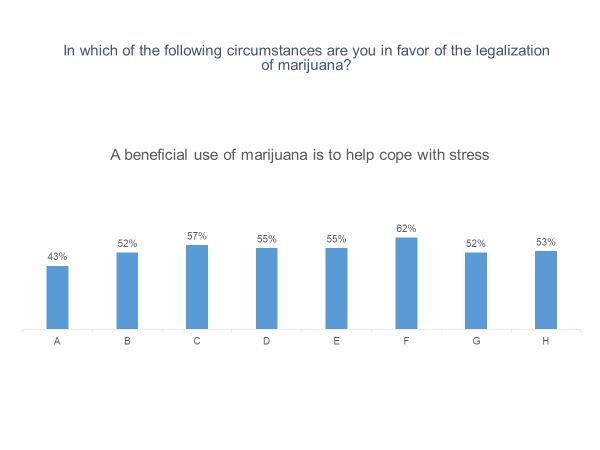 Why the differences? There are many reasons why such large differences exist, but the primary reason is that panels are built and managed differently. We don't look at these differences as good or bad, but simply "different" because of the variances between how they're built, how they're managed, and other reasons. We nearly always see these types of differences in attitudinal and behavioral differences between panels, even with strict balancing on demographics.
Because of this, and the potential for different business decisions being made depending on the panel chosen, we recommend a blended approach to sampling, called IntelliBlend® that is an intentional and controlled method to blend sample. Click the button below to learn more about IntelliBlend and how it could help you with your studies.