2022 is coming to a close. As we here at EMI get ready to ring in the new year, it is important to look at our accomplishments and align on what we want to achieve in 2023. This year, I am putting a fun spin on things with the 4 Ps of 2022. Here are my takeaways:
People
I must start with the most important part of EMI: our people. This year, we hired five new team members including four new members of our business development team (Zach Noe, Angie Trujillo Emrie, Goshen Perry, and Sahil Mehta), as well as an Insights Associate (Jared Frank) to assist with our research-on-research. Each of these new additions has been critical to the growth and success that EMI has seen this year. I feel incredibly fortunate to have each of them join us and I am invigorated by the energy they bring to our team.
Mary Draper moved into the new role as our Director of Network Partners and Quality. In this position, Mary can analyze the health and quality of our partnerships while educating both internal and external resources about our partner network and capabilities. It has been a valuable role as EMI continues to strive toward delivering the highest quality data for our clients.
Process
This year marked the introduction of EMI's Quality Optimization Rating for Sample which gives us a comprehensive view of quality across the panel providers in our ecosystem. It is one of the many components our sample consultants use to create strategic sample blends for our clients.
This year was also one for innovative thinking. We improved and optimized our internal processes and are now more aligned for future growth than ever. I am proud of the team for continuing to utilize our strategies for communication that allow us to be vulnerable and supportive as we strive toward our goals.
Philanthropy & Mental Health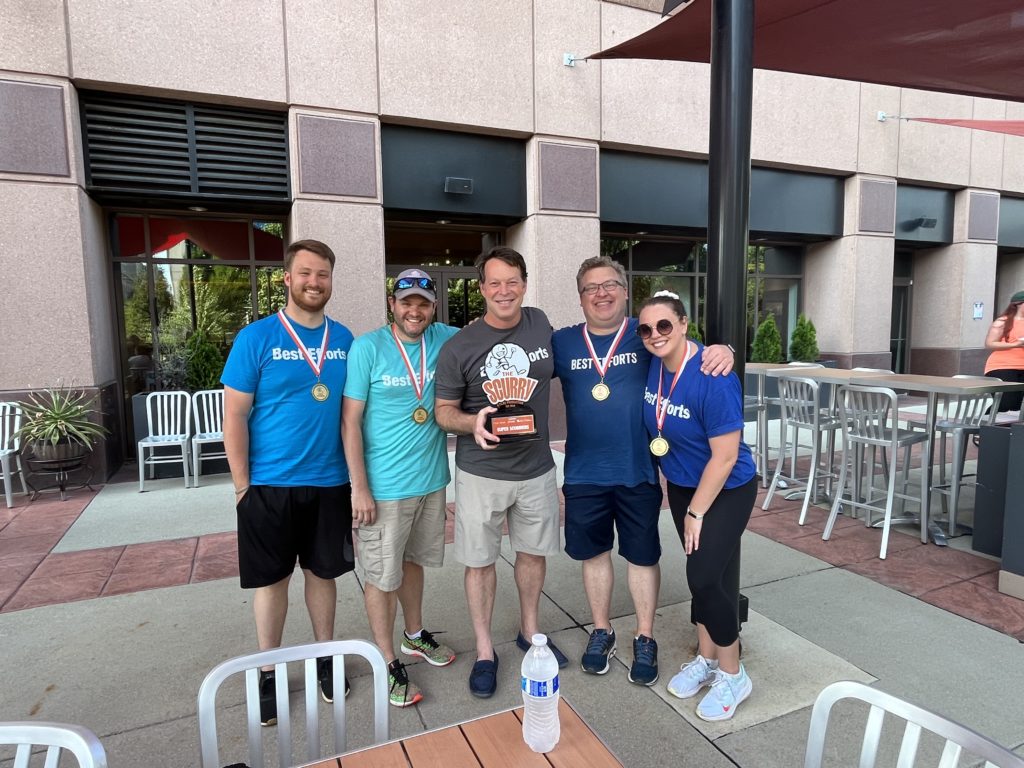 We came, we saw, we scurried! That's right! EMI participated in the Scurry (a unique, fun, team-centered fundraiser full of challenges and obstacles) to support mental health through the Lindner Center of Hope, Cincinnati Children's, and The Children's Home of Northern Kentucky. It was an awesome day spent with the team and we walked away with the title of $uper $curriers for raising the most money for mental health! Shout out to our team, Brian Lamar, Brian Peterson, Abby Snyder, and Matthew Alexander, for making us proud! We're incredibly excited to defend our title in 2023 and hopefully challenge our neighboring market research firms to a friendly competition.
In November, several members of the EMI team participated in Movember! We had some fantastic facial hair growth to raise awareness of men's mental health issues—congrats to Devin Mestemaker for winning our best 'stash competition. The team also surpassed last year's donation dollars! As Andrew DeCilles put it, we used the power of the mustache to make a lasting impact on the face of men's mental health.
Praise
This year, EMI was honored to be recognized as a Top 30 Market Research Agency by the Insights Association. I could not be more excited to see EMI included on this list, and 2022 was just the beginning!
We have some big things on the horizon for 2023. We will release the fifth edition of The Sample Landscape, our annual report on the online sample industry, and our podcast, Intellicast, will launch into its sixth season. We may also have something else up our sleeves… it is just a little too early to talk about, so you will have to stay tuned! It is sure to be an awesome year of continued growth for our team.
I am incredibly grateful to have had such a wonderful year and to be able to share these accomplishments with you. We are excited to see what 2023 will bring. Cheers!