At EMI, our team is one of our strongest assets. Over the course of this year, we will be highlighting all our team members. We continue this week with a question-and-answer session with Senior Vice President, Business Development, Jason Inderhees. Continue reading to learn more about Jason!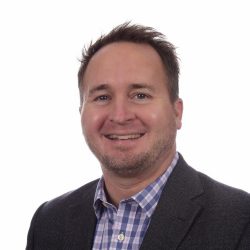 What do you do at EMI?
SALES! My glorified way of looking at it is: I try to create long-term, sustainable value for EMI by turning "strangers" into "fans" of a truly unique and valuable perspective on an integral piece of the primary research process.
What led you to EMI?
A dinner with Tia Draper! My wife and I went to dinner with Tia and Mac and she found out that I was looking for a different opportunity. She proceeded to spend the next 2 hours ranting and raving about how cool of a place EMI was and how much of a perfect fit it would be. A couple of introductions and 3-4 interviews later, and the rest is history.
What is your favorite thing about EMI?
This is an easy one – the people. I find great satisfaction in seeing the faces I see on a daily basis and can honestly say I want nothing but the best for each and every one of them. The best part about it is I know without question the feeling is reciprocated.
When you aren't at work, you are…?
Chasing my little ones around! Liam is 5 and Isla is 4 and they are doing nothing but getting faster. We spend as much time as possible at the lake during the summer and as much time as possible having snowball fights in the winter.
What is your favorite quote?
"Always remember, there is nothing worth sharing like the love that let us share our name." – Scott Avett
What is your favorite music band/genre/artist?
Favorite band – The Black Keys and The Avett Brothers
Genre – Folk and any 90's Hip Hop
What is your favorite movie?
Shawshank Redemption is tough to top in my opinion.
What is your favorite TV show?
PJ Masks currently. But when the kids aren't around, I am hooked on Ozark on Netflix.
What is your favorite sports team?
I am a glutton for punishment…Cincinnati Bengals
What is your favorite drink?
A Tito's and tonic (outside of nearly any craft IPA)
What are some of your hobbies?
Golfing and attending nearly any type/genre of live music
What are the last 3 songs you've listened to?
Laundry Room – The Avett Brothers
Conversation Piece – Kings of Leon
Whitehouse Road – Tyler Childers
What's your perfect vacation?
I would say playing 18 holes and snow skiing in the same day would be pretty close to perfection. Perhaps summer skiing in Chile!
What is something you wish you could go back and learn?
Several languages. None in particular, but if I could go back, I would learn several of them.
What gets you fired up?
Narcissism and the toilet paper put on wrong (we all know over is correct).
What is your biggest source of pride?
My kids, Liam and Isla
What are three of the most significant numbers in your life?
The day I met my wife in 6th grade (no idea what the date was)
October 30th for Liam's birthday
February 10th for Isla's birthday
What do you view as success?
The smile on Liam and Isla's face. This was a super challenging question years ago, but they make it easier to answer every single day.
What is the hardest or best lesson you have learned?
Humility – still learning by the way. Kids have made it much easier, but being an only child has its drawbacks and a lack of humility was one of them for me.
And finally, which of the 4 core values of EMI do you most relate to? (Agility, Accountability, Integrity, Passion)
Tough question as they all resonate with me in a professional and personal way. If I had to choose one, I would likely go with Integrity. In my opinion, without Integrity, none of the other three really matters. Moral principles are essential in both work and life in general, so Integrity it is!