The sample industry has been undergoing some major changes over the past few years, but 2020 was a year like no other for the industry. We saw some trends accelerated, others emerged, and the overall industry changed. Throw in a presidential election, and new improvements in technology – the sample landscape doesn't look the same.
You probably know now that online panels are different from one another, but last year also provided solid proof on how individual panels can change over time – and how they can impact results.
In our third annual report on the online sample industry, we explore how individual panels evolve over time, how the pandemic impacted the industry, as well as data quality and how it impacts the industry.
Complete the form to get your copy of third edition of The Sample Landscape: 2021 Edition!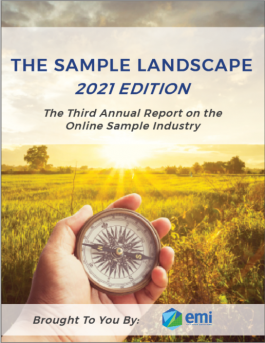 ---