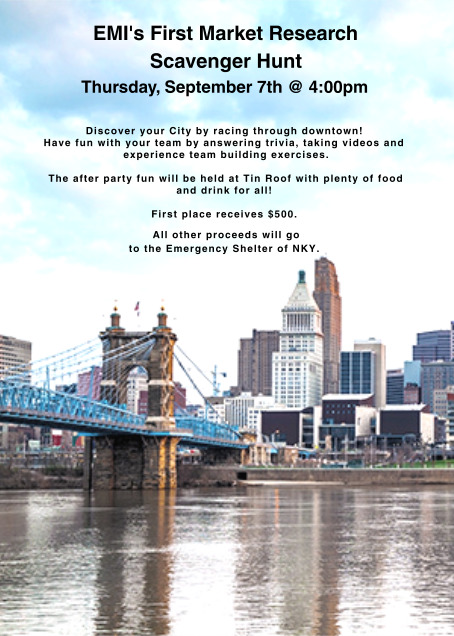 EMI is grateful for everyone's participation in our Inaugural Market Research Scavenger Hunt ~ A.K.A The Research Rumble…
On September 7th ten teams of market researchers and The Emergency Shelter of Northern Kentucky http://emergencyshelternky.org/competed for fame, glory, and a small trophy.  The event kicked off at Smale Park with a brief introduction by Adam Jolley, our SVP, Team Lead – Business Development.  For two hours they raced around downtown via an app that listed over 100 activities.  Activities included playing ping pong with the CEO of EMI, singing karaoke at a bar, taking photos with strangers, collecting pennies, and highlighting our city.
The event was orchestrated after EMI hosted a similar successful event back in January that was tied to a market research conference in New Orleans. After further brainstorming, we knew Cincinnati is recognized as a huge hub of market research and our city has a long heritage of research and many, many firms locally – likely more market research jobs per capita than any other city. And what better way to raise money for a local charity that each of us felt passionate about.  $3,000 was donated to The Emergency Shelter of Northern Kentucky!
We plan to organize another event in the Spring and already have plans to make it bigger and better.  If you are interested in participating feel free to reach out to Brian Lamar, Brian.Lamar@emi-rs.com.  Our goal is to double our monies raised, include sponsorships, network with other researchers and celebrate the market research community.
Please take a moment to review the pics below. Be aware – the smiles and laughs are contagious!
[smartslider3 slider=3]