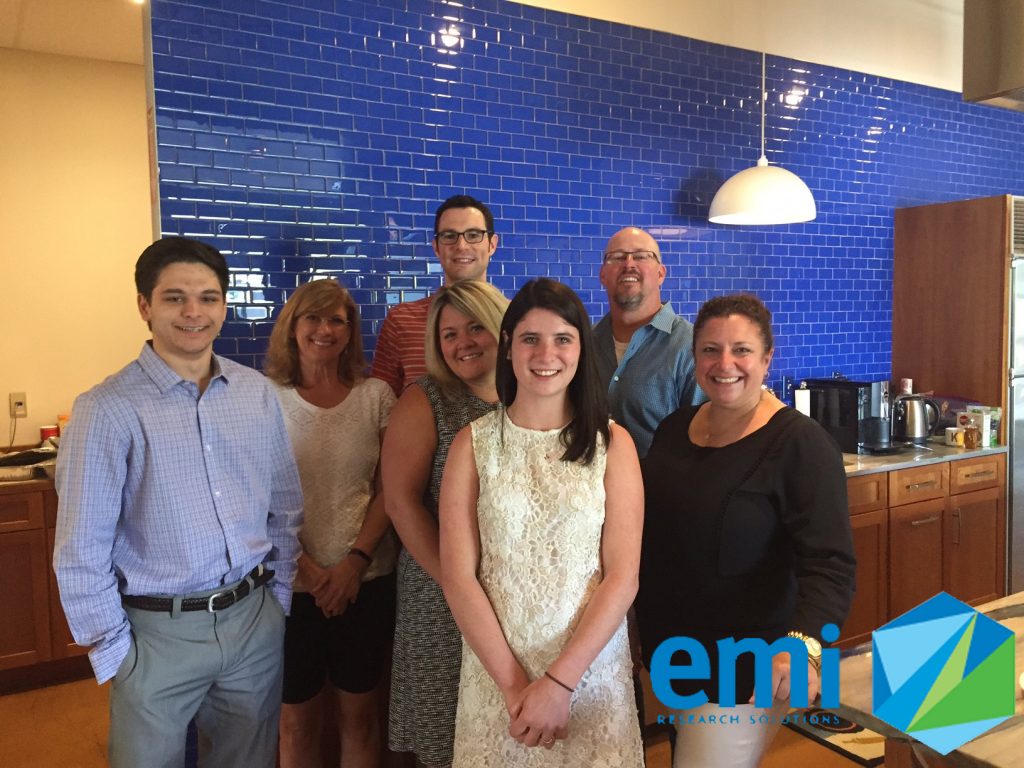 From L to R: Dalton Clifford, Melissa Angel, Lance Grimm, Angie Dodge, Rory Dineen, Steve Billingsley, Joey Adams
Lance Grimm joined the EMI team in December as the Director of Sales. He graduated from Miami University in 2007. Prior to EMI he spent six years working for a local software company. In his free time, Lance enjoys attending concerts, hiking, rock climbing and photography.
Steve Billingsley is a veteran in the market research industry, knowledgeable in sampling, quant and qual methodologies and online fielding best practices. In his role as Senior Sales Executive, he is responsible for developing new accounts for EMI and building strong client relationships. He enjoys reading, CrossFit and chasing his 3 boys around baseball fields around the Dallas/Fort Worth area.
Melissa Angel serves as Controller, responsible for corporate finance, accounting and tax, financial planning, human resources, and internal compliance. Melissa works closely with the executive team to help define strategy, align resources, and execute on the company's strategic vision and enjoys vacations by the water – lake or ocean. Melissa has three children, four grandchildren and two dogs.
Angie Dodge just joined EMI as an Executive Assistant and HR. She has an undergrad in human resource management and has been an Executive Assistant for 15 years in several industries; military, telecommunications, and banking. She lived in Europe for 6 years and traveled to 30+ different countries in that time. She also have been known to do stage plays around the city.
Rory Dineen recently graduated from Xavier University where she studied International Business. She joined the EMI team after learning about the industry through a summer internship in the industry. In her role as Client Services Representative at EMI she enjoys creating solutions that make clients lives easier through by providing the best online sample. In her free time, Rory enjoys watching the New York Yankees and Xavier Musketeers, playing lacrosse, and biking.
Joey Adams is Office Manager at EMI Research Solutions. She joined the EMI team in August 2016. She has a background in Media and Surgical Equipment Sales. Her proudest moment during her short time here is moving the entire company in three days! When she isn't taking care of the needs of everyone at EMI, she is carting around her awesome redhead 11 year old boy to swim meets, basketball and lacrosse games, and drum lessons. When she has free time she loves to refinish furniture! Her motto is "You got this!". An interesting fact about Joey is that she has a twin sister!
Dalton Clifford was born and raised in Mason, OH. He is set to complete and graduate in May of 2018 with degrees in Accounting, Finance, and specialization in sales from The University of Alabama. At EMI Dalton works as a Client Service Representative focusing on current and new prospects while assisting the sales team with clients and partners. In his free time, Dalton enjoys traveling, spending time with family and friends, and cheering on the Cincinnati Reds and Alabama Crimson Tide.