At EMI, our team is one of our strongest assets. Over the course of this year, we will be highlighting all our team members. We continue this week with a question-and-answer session with Director of Research Manager, Courtney Sandfoss. Continue reading to learn more about Courtney!
What do you do at EMI?
I am a Research Manager at EMI. My role is to support our clients to reach their research objectives. I am the main contact for daily updates on active jobs and aim to provide top of the notch customer service to every account.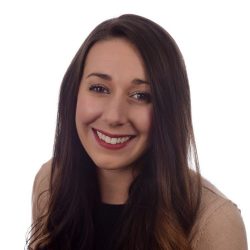 What led you to EMI?
I came to EMI directly after graduating from NKU in 2015 with a Marketing degree. My Marketing Research professors announced a job posting my senior year and it seemed like the perfect fit for me. I interviewed with EMI the same month that I graduated from college. I have been here ever since.
What is your favorite thing about EMI?
The people and passion behind what we do every day. Our culture here is truly one-of-a-kind.
When you aren't at work, you are…?
Working out or doing something active, taking care of my fur-babies, spending time with my family and friends, and traveling as much as possible.
What is your favorite quote?
"The best way to predict the future is to invent it."
What is your favorite food?
Hands down, Italian. I could eat pasta every day.
What is your favorite music band/genre/artist?
90's R&B
What is your favorite movie?
Italian Job, Shooter, Four Brothers (basically anything with Mark Wahlberg in it).
What is your favorite TV show?
The Real Housewives of New Jersey (big reality tv girl).
What is your favorite drink?
Coffee followed closely by wine.
What is your favorite sports team?
I am a huge UK Basketball fan. My favorite NFL team is the Indianapolis Colts.
Do you listen to podcasts? If so, what's your favorite?
Women Inspiring Women by Melanie Mitro.
What's your perfect vacation?
Anywhere with warm weather and pretty sunsets. A beach is always a plus.
As you get older, what are you most afraid of?
Having regrets and not reaching my full potential.
What gets you fired up?
When people mistreat animals or people who have a negative outlook about everything (Debbie downers).
Do you have a goal (personal or professional for 2019? What is it and why?
Travel more and see the world. Work on not allowing my emotions to overcome me and only put my energy towards things that really matter.
What is your most memorable memory?
The weekends I stayed with my grandma and grandpa when I was young. They spoiled us like crazy and we never wanted to leave their house. They are a huge part of who I am today, and I am forever grateful for those times. My grandpa is my best friend.
What is the hardest or best lesson you have learned?
The hardest lesson I have learned is growing up everyone has their own paths and timelines in life. You cannot compare where you are in your life to anyone else around you. The best lesson I have learned is all you can do is be better than you were yesterday. Keep moving forward!
What is one interesting fact about yourself?
As a kid, my AAU basketball team was ranked top 10 in the Nation. We traveled almost every weekend and had the opportunity to play at Duke, North Carolina, and NC State.
And finally, which of the 4 core values of EMI do you most relate to? (Agility, Accountability, Integrity, or Passion)
Agility. My job is to constantly be rolling with the punches and being proactive instead of reactive. It is important for us to be able to adapt to changes quickly while keeping our research objective as the focus/goal on every project.