At EMI, our team is one of our strongest assets. Over the course of this year, we will be highlighting all our team members. We continue this week with a question-and-answer session with Executive Vice President, Operations, Amy Carley. Continue reading to learn more about Amy!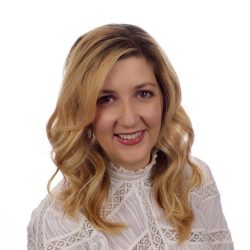 What do you do at EMI?
I am Executive Vice President, Operations. I focus on discovering processes, researching new ideas, improving internally used technology, and growing our Research Manager team. I started in 2006 as the company's first project manager and my role has evolved continuously. No two days have ever been alike for me in my nearly 13 years at EMI!
What led you to EMI?
I found a job in sales out of college – I sold lighting and electrical supply to home builders and interior design clients – and while I enjoyed the design aspect, sales is not my jam and the housing bubble was about to burst, so I started thinking about what my next move would be.  I was a Marketing major in college with minors in International Business and French and started interviewing with Market Research firms.  A good friend of mine was a reporter for the Cincinnati Business Courier and interviewed Mike Holmes for a story… she immediately called me, gave me his contact information and told me she was sure I was going to work for this company, then known as Easymail Interactive.  I called Mike, had a couple of interviews, and the rest is history.
Tell me one interesting fact about yourself?
I met my husband on a Habitat for Humanity trip in New Orleans after Hurricane Katrina.
What is your favorite TV show?
More than a show, my favorite channel is Bravo. I watch essentially all shows on Bravo. Reality TV is my guilty pleasure.
What is your favorite sports team?
Born and raised in Cincinnati, I am plagued by the curse that is being a Reds and Bengals fan. I like attending both teams' games and I genuinely enjoy baseball and football no matter what team is playing.
What is your favorite drink?
I only drink four things… water, variations of coffee, wine, and beer.
What's your perfect vacation?
Any vacation is my perfect vacation! My husband and I enjoy traveling and my children have both traveled with us from a few months old. It is important to be a citizen of the world and break from routine from time to time!
And finally, which of the 4 core values of EMI do you most relate to? (Agility, Accountability, Integrity, or Passion)
I relate to Agility – emphasizing the importance I place on working as part of an agile team, creating a flexible and productive environment each day. I strive to adapt and evolve with grace as situations around me change both at work and in my personal life.