At EMI, our team is one of our strongest assets. Over the course of this year, we will be highlighting all our team members. We continue this week with a question-and-answer session with Vice President of Business Development, Adam Dietrich. Continue reading to learn more about Adam!
What do you do here at EMI?
I'm Vice President of Business Development and I help our clients find solutions for their research goals.
What led you to EMI?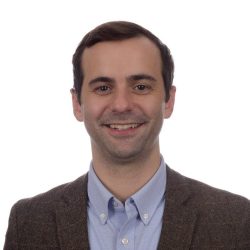 I had worked in consulting before and was planning on going back into that field after college, but met our founder Mike Holmes at an event, learned about the company, and wanted the opportunity to really interact and make a difference from Day 1, so I took a leap of faith and here I am eight years later!
What is your favorite thing about EMI?
EMI is uniquely situated in the research world to help a lot of very different teams get the data that they need, but the coolest thing is that we've developed a culture that is excited to assist everyone: from one-person shops to Fortune 500 companies and everyone in between.
What's your favorite TV show?
I fell in love with watching "Meet The Press" over breakfast every Sunday with my parents growing up and still do it with my family. For something less taxing, I really like car shows like "The Grand Tour."
What's your favorite book?
Among the classics, it's "The Razor's Edge" by W. Somerset Maugham or "To Kill A Mockingbird." As a huge fan of politics, I think Jared Yates Sexton's "The People are Going to Rise" is the best recent depiction of the political climate.
What's your favorite sports team?
I grew up as a huge Indiana Pacers fan and love the NBA, but when I lived in London, I strangely fell in love with Sunderland AFC, a soccer team now in the third division. I watch every match on a grainy feed on my laptop.
You mentioned you had lived in London. With that in mind, what is the most interesting place you've been?
Bude, Cornwall. It is a small surf town nestled in southwest England surrounded by farmland. It's beautiful, relaxing, and completely out of place.
What is something you wish you could go back and learn?
I wish I had learned better habits about organization and time management. Not just the ability to plan for work, but to plan for time to relax and recharge.
And finally, which of the core values of EMI do you most relate to?
Agility. I love being empowered to create a tailored solution to help a client reach the exact audience they want to measure.