At EMI, our people are one of our strongest assets.  Over the course of this year, we will be highlighting all of our team members.  We continue this week with a question and answer session with Director of Business Development, Andrew DeCilles.  Continue reading to learn more about Andrew!
What do you do here at EMI?
I get to make friends with interesting researchers around the country and help them source sample for their studies.
What led you to EMI?
I studied in a program called Philosophy, Politics, and the Public at Xavier University that was basically a fusion of political-science, philosophy, and public policy. Part of the political program was working for a campaign where I was able to do some canvassing and then some in-depth voter demographic analysis based on past election data. My first job out of college was in sales for a company that did custom content management platforms for websites. EMI was a good mix of polling/survey, online, and data analysis that brought everything together for me. Technically, my dog got me my job interview at EMI, but you'll have to ask me about that story for more details.
What is your favorite thing about EMI?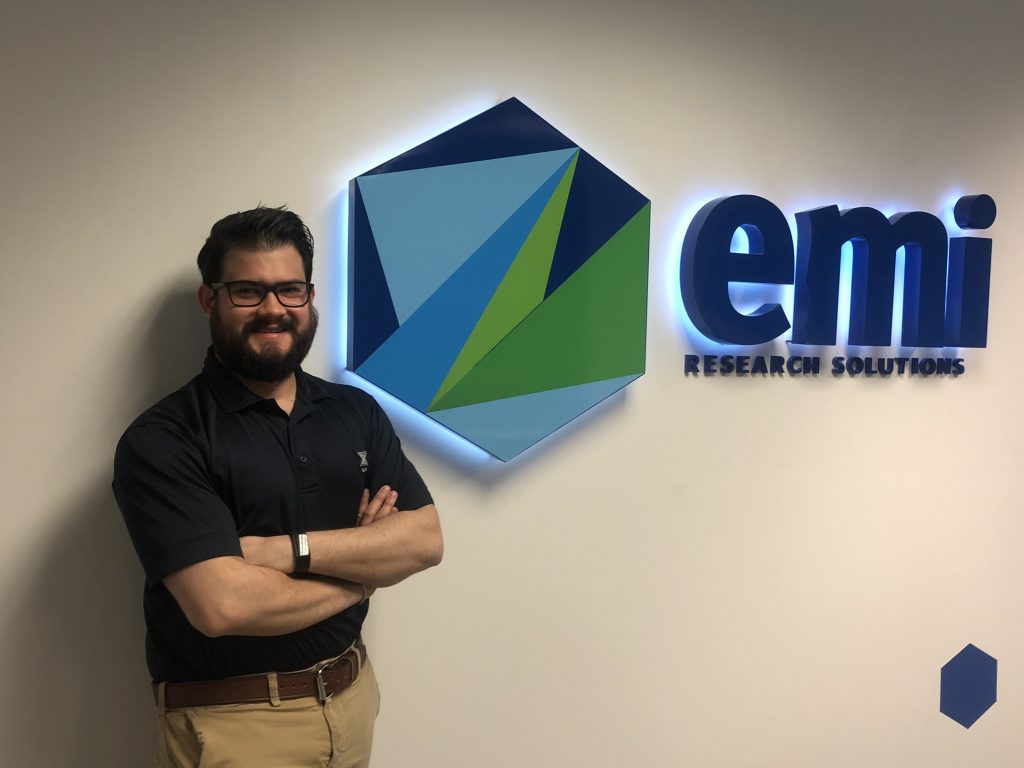 The people, the people, and the people. EMI is like a family. We have a casual, open atmosphere to the point that I have NO doubt that my co-workers know exactly who I am, and I know who they are—both the good and the bad. It's incredible.
When you aren't at work, you are…?
Playing with my son, hunting or shooting, or messing around in the kitchen.
Tell me one interesting fact about yourself?
I am a Freemason! Caliburn Lodge #785.
Do you have a goal, either personal or professional for 2019? What is it and why?
I am really doing my best to finally get back in shape this year. Everyone says that but I am truly taking it seriously this time around and working out with a friend every weekday. This is something I've been needing to do for the last 7-8 years. I need to make sure that I am going to be around a long time for my son. So far I've lost 12 pounds!
What are some of your hobbies?
Hunting, fishing, shooting sports, and cooking. I really enjoy the food processing aspect of cooking so doing things like fermenting foods, curing them, aging them, or making things unnecessarily from scratch. I like to make my own sausage, goetta, hot sauces, kimchis, kombucha, etc.
You've mentioned cooking as one of your hobbies, so what is your favorite food?
I am a huge foodie so choosing just one is impossible. I really enjoy MAKING pasta and smoked, brined, or cured meats. As far as to eat, Beef Wellington and venison backstrap are two dishes that are tough to beat for me.
What is the hardest or best lesson you have learned?
I once asked my favorite philosophy professor "what is the meaning of life?" He answered, "Life is what you make it." This could be taken as either that life is based on our perspective of it or as that life will be how we craft it to be. I've found that our lives only change or improve with very intentional, driven plans to change them. We can pretty much accomplish anything that we want to, but it takes effort and more importantly time and patience.
If you could take one thing on a deserted island with you, what would it be?
A LifeStraw water filtration bottle.
And finally, which of the core values of EMI do you most relate to- Agility, Accountability, Integrity, or Passion?
Passion. I am nothing if not a passionate person, for better or worse.