I was at SampleCon last week, and during the first panel, the group was asked if market research was in a bull or a bear market. I found this question very intriguing. Traditionally, I have always felt that market research just follows along with the pattern of the global markets, specifically the U.S. and Western Europe. When those markets are growing, then generally market research increases. Likewise, during a slowdown, we are one of the first industries to see cuts. But what if this is not the case?
The question made me start to think about market research as its own market. Are we in a bull or a bear market? First, what makes a bull market? How do we define it? According to Investopedia, the definition of a bull market is: Bull markets generally take place when the economy is strengthening or when it is already strong. They tend to happen in line with strong gross domestic product (GDP) and a drop in unemployment and will often coincide with a rise in corporate profits. While corporate profits and unemployment are quantifiable, it can be more difficult to gauge the general tone of market commentary, for instance. Supply and demand for securities will seesaw: supply will be weak while demand will be strong. Investors will be eager to buy securities, while few will be willing to sell. In a bull market, investors are more willing to take part in the (stock) market in order to gain profits.
Taking that into account, I dug into public financial information on the industry.  I found that according to GRBN's Top 25 report, "the total revenue increased by about $1.5 billion for the Global Top 25 companies in 2017, an average growth rate of 5.9%".  This seemed to indicate the industry was strong.  This was backed up by the 2018 AMA Gold Report, which stated: "the growth rate for the top 50 companies in the U.S. market in 2017 was 3.4%." The growth rate of the U.S. market research industry is typically higher than the U.S. GDP.  Recently, there have been a lot of new investors in market research and startups, and the investments/purchases in Qualtrics and SurveyMonkey certainly show that investors are valuing our business.  Anecdotally, I feel that there are a lot of new companies out there.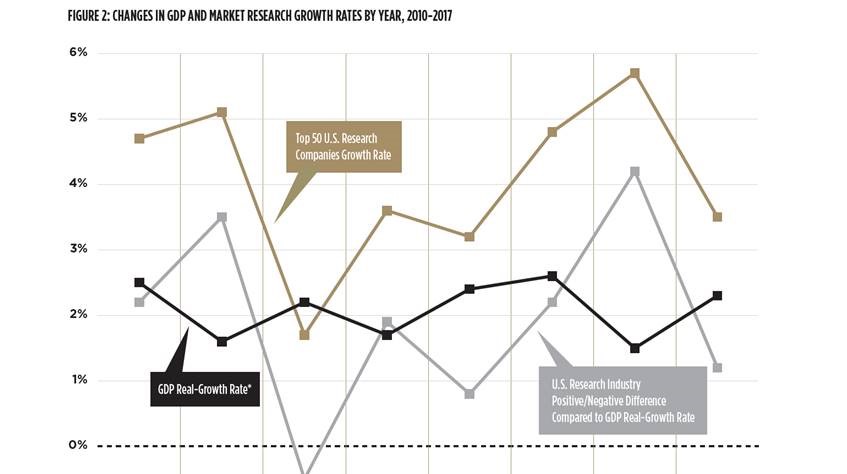 Having said that, there is still a lot of disruption in the industry, good or bad. Innovation is rampant as new solutions are being built and implemented, such as programmatic, automation, DIY, APIs, etc. Blockchain solutions are on the verge of being launched.
Additionally, the consolidation of the industry continues with Dynata and its acquisition of Critical Mix. Rumors of industry giants such as Nielsen, Kantar, and Ipsos being broken apart and sold wouldn't surprise anyone.
Regulatory changes are also impacting us as GDPR has challenged most of the industry and is soon moving across the globe.  How will this affect the sampling landscape?  In an industry that needs stability and consistency of data, there are a lot of factors out there to create turmoil. So, are we in a bear or a bull market?  Based on all the data, I would say we are in a bull market, but the factors discussed above in many ways are limiting more substantial industry growth.
Sources: