One of the keys to a successful market research study with consumer sample is to include several demographic questions.  They allow us to dive deeper into data and better understand respondents by clearly-defined segments, such as high or low income, ethnicity, various age groups, etc.  Typically, a different approach is taken in B2B studies, where demographics are not asked, but more firmographics are probed on, such as company size, industry, role, etc.  In this installment of The Sample Landscape, we explore how demographics can be beneficial in B2B studies.
We recently surveyed IT decision makers (ITDMs) in the U.S. from several domestic panels. Along with questions regarding their job, experience taking surveys, and other various topics, we also asked respondents a few demographic questions, including age and income level.
We found that asking demographic questions can be a good way to validate the quality of the data you are receiving, as well as being used back-door trap questions to determine fraudulent respondents.  It's imperative that these questions are asked prior to any key B2B screening questions though, so they can be used to validate respondents and increase quality prior to respondents hitting the primary questions of the survey.
For example, if a respondent indicates that they are 23 years old and they make $20,000 annually, but also claim to be an executive IT decision maker, there is reason to believe that respondent is not valid. That respondent could be removed from the sample to ensure data quality.
In our data, 35% of respondents are between age 18 and 35, 48% were between age 36 and 55, and 17% are age 56 or older. According to marketing.engineering.com, ITDMs are most likely to be between the ages of 46 and 55. It is safe to say that the age distribution of our study is representative of ITDMs.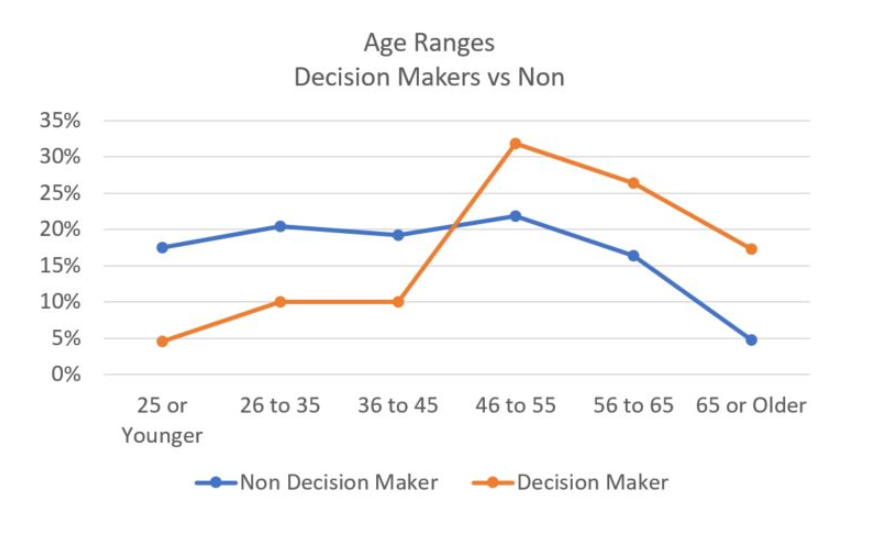 The income distribution of our sample is a little bit of a different story. While most respondents (46%) are in the highest income bracket ($100,00 or more), 20% of respondents said their household income was $59,999 or less. Out of that 20%, approximately 6% said they made less than $40,000. Considering we surveyed ITDMs, that percentage is somewhat questionable.
We also asked respondents about their role level, and 91% of respondents said that they are a manager, director, or executive. These people are likely to be true ITDMs. The remaining respondents said they are at the staff level. We would not necessarily expect ITDMs to be at the staff level. However, it is likely that staff could claim to have influence over technology in some respect.  See below for the role level distribution of ITDMs according to marketing.engineering.com.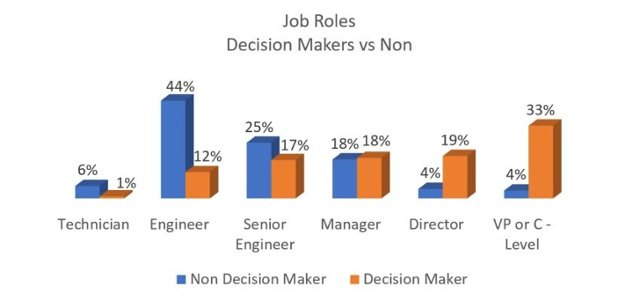 Through these demographics, we could validate whether respondents are true IT decision makers and increase our data quality. Contact us for help designing your next B2B study with demographics!
Sources: https://marketing.engineering.com/digital-marketing-for-engineers-blog/new-research-shows-how-to-reach-technology-decision-makers