Dear fellow market researchers,
"The Art of Blending is to harmonize the characters of many selected malt and grain whiskies to produce brands of the highest quality, such as Chivas, that are consistent in flavors and taste from year to year."
At EMI, we believe several parallels exist among proper Sample and Scotch blending. Both require a bit of an art and a science; "top-shelf" sample blending gives researchers the most accurate and representative data for making the best business decision.
Like most researchers, you've spent time investigating the differences in survey data from one wave to the next. You likely reviewed demographic data or even attitudinal behavior data if we're lucky to see why these differences may exist.
At EMI, we've noticed that another source of potential differences in data is around the actual sample source. We all know that keeping your sample as consistent as possible from wave to wave is ideal, but that can be challenging in our world with low incidence studies, a need for higher base sizes, hard to find targets, etc.
We recently conducted research on research among 14 different US sample partners (whitepaper to be released soon). Although targeting and balancing were replicated across all suppliers, there were significant differences in the data for all sources. The scatterplot below illustrates some differences we saw in terms of concept and brand ratings.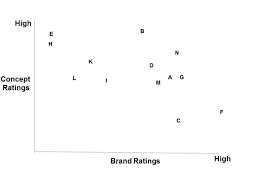 There are a host of reasons sample can look different from source to source or even wave to wave with a single source; a few of these include:
• Recruitment approach (and ongoing investment)
• Opt-in process and verification
• Incentive structure (points, sweep, cash, etc.)
• Sample source composition
• Panel management (tenure, profiling, targeting, a community or just visitors…etc.)
• Sample delivery mechanism (direct email/router/prescreen)
One way of reducing the bias of one source is to systematically blend multiple sample sources. At EMI we have been blending sample for 15 years; we have recently come out with our "IntelliBlend" blending product which provides a much more controlled and scientifically-led manner to sampling. We can help you identify which studies a blended approach may make sense (or where it does not). EMI can help you put together a comprehensive sample plan utilizing multiple sample sources and can ensure this plan is consistent from wave to wave or from study to study. In this way, you can feel more confident about comparing results from one test to another. We are also able to help you transition your existing sample plan to a better, more realistic long-term option. Please consider EMI for your next concept test or tracker; put EMI's "IntelliBlend" to the test!
Sincerely,
The EMI Team